NLP NEWSLETTER | ISSUE 269
The familiar feeling of training season is in the air once again and like the change of a season, it brings lots of growth and excitement for our team and for our students.
We are incredibly excited to be welcoming both Drs. Adriana & Tad James to Australia in the very near future for our NLP Practitioner and NLP Master Practitioner Trainings in Sydney and with them comes a lot of fresh new developments in the fields of NLP & Time Line Therapy®.
Up first in Australia is our NLP Practitioner Training in Brisbane 10th – 16th April and for the USA we have our NLP Practitioner Training just around the corner in Orlando, Florida on the 20th – 26th of April.
Make this your best year yet, and make the call (US 1-888-440-4823 / AU 1-800-133-433) to be GREAT!
Dr. Adriana James NLP – Live from Studio 6B in New York – Dr. Adriana James is live from Studio 6B in New York discussing her new book – Values and The Evolution of Consciousness. An incredibly insightful interview which will answer many of your questions on NLP, values, your personal evolution, the evolution of humanity and creating success in your life!

Can NLP Be Used in Selling – How many times have you been stuck with a horribly annoying song in your head for days or even weeks?! You think it is gone and then…nope, there it is back again! Check out this week's second article by Dr. Tad James, a curious read that takes a look at how NLP can get rid of that annoying song in your head!

Introduction written by Fini Todd @ Sydney Office.

---
Your New Articles, Hints & Tips
Dr. Adriana James NLP – Live from Studio 6B in New York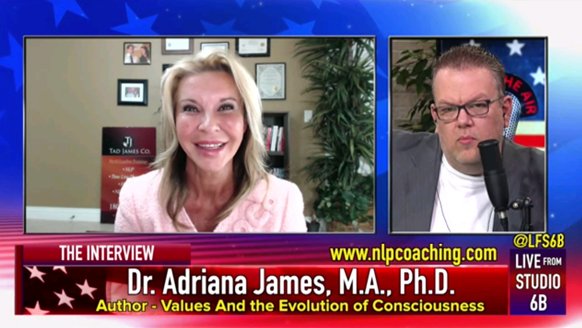 by Dr. Adriana James
Recently, in mainstream media, network TV and radio shows we hear this term: neuro-linguistic Programming or NLP. explaining what it is and what it can do for people, Dr. Adriana James was guest to Live From Studio 6B – TV Talk Show – in New York. A very clear explanation of how NLP can be used to model what excellent people do to get the results they want.
By Dr. Tad James
If we could use NLP in selling, would that have any value for you? Here is an answer, one page or less, to a common question in NLP…(Read More)
---
Marketing Your NLP Business

"Marketing Your NLP Business" is a BRAND NEW Marketing, Public Relations, Selling and Advertising training, targeted at growing your NLP Business.

Buy NOW