Blog
At the Tad James Co. Australia we believe that we can assist people to empower themselves by learning the right skills and techniques of the mind, while ensuing that they follow through and achieve the goals for which they take the training, and beyond. The Tad James Co. has been in the training and coaching business since 1982, and the number of successful graduates utilizing these skills in their corporate or private business, in relationships, health and fitness stretches across the globe. The motivation behind what we do is to affect a...
read more
An interview with Dr. Adriana James on the television show Moving America Forward – the ripples of positive change continue to expand as we empower and inspire more and more individuals to transform the planet.
read more
Recently, in mainstream media, network TV and radio shows we hear this term: neuro-linguistic Programming or NLP. explaining what it is and what it can do for people, Dr. Adriana James was guest to Live From Studio 6B – TV Talk Show – in New York. A very clear explanation of how NLP can be used to model what excellent people do to get the results they want.
read more
Why Are You Speaking in the First Place? Speaking to an audience without a goal and speaking to an audience without knowing what you want them to do next are both common reasons why speakers fail to engage their audience and achieve the outcomes they are looking for. Successful speakers always keep the next step they want the audience to take in their mind and build in hints, clues, and motivations throughout their presentation. This does two things: – Creates a sense of anticipation in the audience; and Creates momentum towards the...
read more
You've probably wondered if hypnosis is a real thing. And if it is, how does it even help? We break down the what, why, and how of hypnosis. We're going to answer all your questions. Is Hypnosis Even Real? How Does It Affect Our Brains? The word hypnosis often evokes strong, comical images stemming from B-movies and antiquated sitcoms. A shady hypnotist with a skinny mustache and evil smile dangles a pocket watch in front of his hapless subject. "You're getting sleepy…" he slowly repeats as his victim's eyes grow heavier. Within...
read more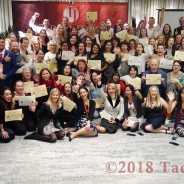 Let's celebrate the 91 inspired and unleashed Master Practitioners that have now graduated and have set a course back out into their lives to make a huge impact and create positive change all around the globe. Join us in this celebration by taking a look at what is in store for you when you make the decision to join us for one of our world class trainings.
read more
70+ boards SMASHED and BROKEN…Go Team USA! That's right, we are on our way to delivering another 60 hungry, inspired and highly skilled Master Practitioners into the world. They are about to experience the power of a full personal breakthrough, freeing themselves of the stories that have kept a ceiling on their ability, until now. We are extremely excited to see them graduate and for them to spread their wings as transformed...
read more
Making S.M.A.R.T. Goals REALLY Effective! Do you set goals for your presentation before you deliver it? Do you have a clear outcome in mind before you walk on stage or start your webinar? You should. The goal you set might be to: Sell a certain quantity of products; Set a certain number of appointments; Inspire a specific number of enquiries; Sign a specific number of contracts; Change people's thinking in a certain way… As you know, a S.M.A.R.T. goal is one which is Specific, Measurable, Achievable, Realistic, and Timely and every...
read more
For Part One of this article click here You will remember from Part One of this article, two easy techniques to overcome jet lag. Now, let's review a couple more, which are innovative uses of some of the basic techniques we teach at our NLP & Time Line Therapy® Practitioner Certification Training. 3) Changing Your Time Line: Many years ago, a frequent flyer friend of mine recommended to me the idea of adjusting all of my physical clocks I travelled with (i.e. watches, mobile phone clocks, etc.) to the time of the final...
read more
What is the NLP Model of Communication? The NLP Model of Communication looks at how individuals process the massive quantities of information that come at them every day. The actual numbers of bits of information that neuroscientists estimate our brains need to process every second are tending upwards. On average something greater than 26 million bits of information per second comes into our awareness from the outside world via our five senses. However, our brains can only process 126 bits of information per second. This leaves an enormous...
read more