WHAT is the Master Trainer Program and WHY is the Master Trainer Program for me?
Nothing speaks volumes in the world of success like being amongst the world's best.
When Drs Adriana and Tad James created the Master Trainer Program, their goal was and still is about giving to NLP trainers all that they have created so that every NLP Trainer graduate can replicate and grow a successful NLP Coaching and Training business anywhere in the world, aligning with their mission, Transform the Planet.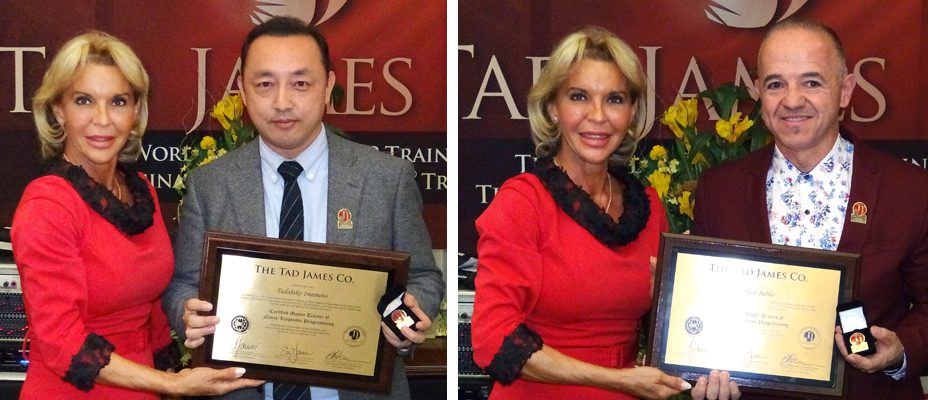 The Tad James Company NLP Master Trainer Program opportunity includes much more than just the Master Trainer Certificate.
In our experience over many years, we found that many extremely gifted, charismatic and knowledgeable graduates failed to accomplish their training business goals because of a lack of business, marketing, finance and strategy know-how in what is a very competitive business world.
Any Master Trainer should be well known nationally and even internationally in the NLP community and have the commercial acumen to manage and grow their businesses successfully. This is why we developed the specialised Master Trainer Program that includes the required standards and elements to support trainers to achieve business goals long-term.
Universities and colleges offer masters level courses, and anyone who has completed a master's degree knows what it takes to master the knowledge and skills learned throughout the course of a tertiary qualification. Well, it is the same in The Tad James Company Master Trainer Program.
This unique 5-year personalised program takes you from being a graduate trainer to a Master Trainer using a multi-layered approach that Dr Adriana James has fine-tuned over many years. After all, do you want to learn the best way? This executive-style program is designed to support all NLP Trainers globally to excel in their NLP Coaching and Training businesses.
Completed NLP Trainer's Training with another School?
If you completed your NLP Trainers Training through a school and a Trainer that the ABNLP recognises, then there is a pathway The Tad James Company has created so you can join the program, receive all of the mentoring, experience, direction and growth, without needing to complete NLP Trainers Training with The Tad James Company (contact our office for information on this pathway).
What do you receive as a member of the exclusive Tad James Company Master Trainer Program?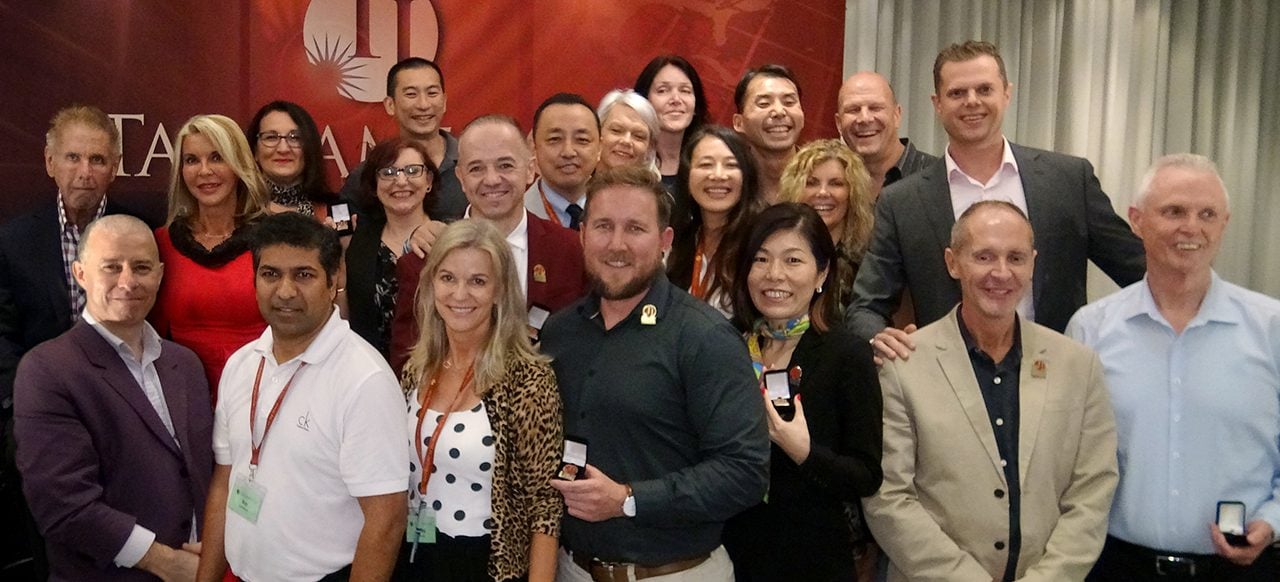 The support is multi-layered and offers you:
One-On-One Coaching with your dedicated Master Trainer Program Coach over 5 years
Global Peer Group Benefits
Access and use of The Tad James Company learning materials including manuals, PowerPoint slides and audios
Weekly specialised live webinars run in-house with trainers
Live webinars with Dr Adriana James and Master Trainers
Access to a members-only portal to discuss topics related to your trainings and coaching
Dedicated priority for you to assist at any of The Tad James Company trainings globally
Self-paced business-focused projects proven to help you grow your businesses globally – successfully
NLP-focused marketing material and live marketing webinars have proven to yield results
Will the Master Trainer Program help you to achieve the BIG goal in your life?
Like any masters level program, when you commit to excellence, that is what you get.
You will read on our website a range of testimonials from graduates over the years and the benefits to each person have a common theme. That theme is about elevating and deepening your experience as a trainer and building a solid NLP Coaching and Training business that is successful.

Here are some recent interview 'shares' from members and graduates of The Tad James Company Master Trainer Program:
"Get access to the same materials that Drs Adriana and Tad James have used successfully for more than 40 years. Every business owner knows the value of time – I want to use my time wisely."
"In 5 years (I have another 4 years to go) I will be a certified Master Trainer from the best in NLP, Dr Adriana James. This connects with my BIG business goal and am planning to use the MT certificate as the vehicle to accelerate my business."
"In 4 years, I will have the Master Trainer Certificate and for my niche, credibility from training with the best in the world will help me to leverage the marketplace to gain more students and clients."
"My goal is to be a well-known influencer and I will definitely have completed all the business projects, mastered how I write and speak so that I am up there with the likes of Anthony Robbins. I am thinking bigger than now because in 4 years I know I will achieve my goal and more."
"I can share that my students in my trainings follow Tad James Company and Dr Adriana James and they love that I am doing the Master Trainer Program and share what I am learning. I find the weekly webinars very helpful and I can go back and watch the recordings and fine-tune what I do. I'm in for the Master Trainer Certificate and am only 1 year from finishing! Thanks to the team at TJC!"
"I trained in NLP more than 7 years ago and eventually came back to TJC for the Master Trainer Program. I spent the first 2 years post Year 1 MTP lapping up my initial success and felt on my own after a while. I realised after 12 months of navel-gazing that I wanted more and for me that was about my development as an NLP business owner. I called TJC and signed up for MTP."
"I grew my NLP business as a coach initially and had no plans of doing NLPTT. I came back to TJC after a few years and completed all the TT trainings and glad I did. I then stayed in the MTP until I completed and received my Master Trainer Certificate. I now work all over the world, even through the pandemic because I committed to being in a group of peers. My advice to anyone is that you really want to complete all 5 years, do the tasking, attend trainings, organise your time to commit to self and your business will flourish."
If you want to grow with the support of a dedicated NLP community, then commit to your ongoing learning and benefit directly yourself and the world.
If you are wanting to grow your success as a trainer, then request your discovery call with The Tad James Company team, so you can join the exclusive Master Trainer Program TODAY.

Download the Free NLP Info Pack and take the first steps in becoming great by improving your life and the lives of others!
Request your Free Information Pack
Fill in our form now and take advantage of this amazing opportunity to learn these techniques to improve your life and the lives of others as you do. Learn how to achieve your goals with The Tad James Company and learn how to improve people's lives better than they currently are.
USA Office:
1450 W Horizon Ridge Pkway #544
Henderson, NV 89012, USA
Australia Office:
Suite 131, 90-96 Bourke Rd
Alexandria, NSW 2015, Australia