NLP NEWSLETTER | ISSUE 281
What a SUCCESS the FasTrak™ NLP Practitioner Certification Training was in Henderson, Nevada! A big congratulations to the whole team and the students for all of their commitment, perseverance and willingness to take that next step in life!
There is nothing more satisfying than positively challenging yourself and then reaching your goals as the students just demonstrated over the last 7 days! Next stop, NLP Master Practitioner from July 6th through the 21st in Henderson, Nevada with Drs. Adriana & Tad James. Get set for a whole new level of WOW!
The next round of soon-to-be NLP Trainers are also eagerly prepping for either the USA dates in July or Australia in October where their level of certainty in themselves and their skills are going to skyrocket! Their ability to positively impact their immediate environment and ultimately the planet will continue to feed the wave of transformation and empowerment that The Tad James Company is all about!
The team in both the USA and AUS office would love to meet you! Give us a call today and we can let you know all about how to achieve your next level in life (US 1-888-440-4823 / AU 1-800-133-433).

Tad James Co Australia | What We Do – Ever wondered what goes on inside The Tad James Company Training Room? Check out this exciting video where you can get a real sense of who we are and what we are all about!
Who Else Wants To Become a "Success Story"? – What does it take to be successful? This week's second article is by Dr. Adriana James and is about the success story of two of our graduates at the NLP Master Trainer Level. The Master Trainer Programme is a 5 year programme where our students learn to be the best. They learn to be an influential and prosperous business owner, they learn to be an expert, they become self confident and they become a proficient leader in the field of NLP. Most of all they learn to model success from the leaders in the field and go out there to reproduce it for themselves!
Introduction written by Kallum Hock @ Sydney Office.

---
Your New Articles, Hints & Tips
Tad James Co Australia | What We Do
At the Tad James Co. Australia we believe that we can assist people to empower themselves by learning the right skills and techniques of the mind, while ensuring that they follow through and achieve the goals for which they take the training, and beyond…(Watch NOW)
Who Else Wants To Become a "Success Story"?
By Dr. Adriana James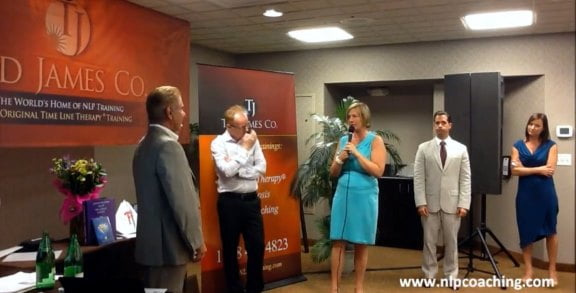 Graduation Ceremony for Two NLP Master Trainers
This particular experience is one that has been more or less a major interest of mine – not the graduation itself, but the process of getting there…(Read More)
---
Lost Secrets of Ancient Hawaiian
Huna – Vol. 1 Second EditionDiscover Newly Uncovered Secrets about Ancient Hawaiian Huna


It is James' realization that there is far more than meets the eye in the old teachings of Ancient Hawaiian Huna. What is needed is a new look into the depth of this tradition of spiritual wisdom hidden behind the veii of chants and Hula dance.
By uncovering this, James discovered something broader and more concealed than the traditional approach of understanding broader and more concealed than the traditional approach of understanding of occult and magic. Lost Secrets of Ancient Hawaiian Huna is about true spirituality in what is now the modern age.

Buy NOW