The NLP Master Practitioner incorporates the technology of Neuro-Linguistic Programming (NLP), Hypnosis, Time Line Therapy®, and NLP Coaching. It will take your NLP Practitioner skills to a new level!
Join Adriana James
for this exciting NLP certification training.
What is the difference between those who succeed and lead happy and prosperous lives and people who don't? Are they working more?
From the NLP point of view, they have new, advanced skills. How is it that some people, even in the most difficult economic times, find a way to prosperity and also make a difference in other people's lives?
Many of those are graduates of the NLP Master Practitioner training. How do you adapt to the changes in your environment so you're prepared right now? How do you balance your workload, your free time, your emotional well-being, your health, and your relationships, and keep up with the change? You already know that more hard work alone is not going to do it
The secret to a fulfilled and prosperous life is to become a master yourself and learn from one of the best companies in the field with more than 30 years of excellent reputation in the field of NLP and Time Line Therapy®.
We graduate the most skilled and most knowledgeable master practitioners of NLP who know how to succeed and produce results in their lives and their client's lives.
Watch the video for a peek inside our NLP Coaching Master Practitioner Training. For detailed information about the content of the training, read below.
Successful graduates will receive five certifications upon their successful completion: NLP, Time Line Therapy®, Hypnosis, Master NLP Coach, and Certification (intro level) in the Coaching Values Inventory System.
What Will You Learn During The NLP Master Practitioner Training
NLP
Neuro Linguistic Programming (NLP) is one of the most advanced technologies today for creating human change both in individuals and groups in Business, Education On-Going Coaching and Therapy.
Quantum Linguistics – conversational change
Learn how to use the verb tense to conversationally put present problems in the past and future solutions in the present
Learn how to use language with volition as a resource for success
Discover how easy it is to change limiting beliefs unobtrusively during conversation
16 ways of answering any kind of objection (Sleight of Mouth)
How to use a set of specific questions to direct your client's thinking in a more positive way (Meta Model III)
Discover deep unconscious sources of unhappiness (Prime Concerns)
A fail-safe negotiation model (always produces results)
NLP and Quantum Thinking
Simple and easy to understand introduction to quantum thinking and personal change
We simplify Quantum Thinking (comes from Quantum Physics) for you and show you how to use the principles in using your NLP techniques.
We show you why the human mind works more like Quantum Physics than Newtonian Physics and how to use that to create change with individuals.
The holographic nature of the universe and why spontaneous healing occurs
Personal Values – one of your sources of personal happiness
Discover what motivates you, what constitutes your personal conscious and unconscious source of ethics and fulfillment
Learn how to identify the part of values which do not serve and support you anymore
Identify and get rid of unconscious values conflicts (I.E. I want to make money, but if I work hard I won't have any freedom).
Thinking in relation to values and your personal evolution
How to change values so that they support your desires and growth
How to use values alignment in business, sales, management, relationships, etc
Meta Programs – unconscious inner patterns that make you who you are
Discover how these inner filters make people have different skills and abilities.
How to select the people you consider most suitable for certain jobs in a win-win situation (extremely valuable in business)
Learn how to elicit Meta Programs conversationally without intruding in client's personal life
Advanced Submodalities
Use hardwired neurological drivers to create lasting change
Learn how to manufacture designer SWISH patterns according to your client's individual needs.
Advanced Strategies
Learn how to install strategies (formally and informally through the Logical Levels of Therapy process)
Advanced elicitation of strategies with particular business (sales, management) applications
Modeling
How to model excellence in others and then install the model in yourself.
How to create a training program to install models of excellence
NLP Presentation Skills and Training Design
How to design a presentation that will appeal to any type of personality
How to succeed at the NLP Trainer's Training and become a great Trainer
Secrets known only by NLP Master Trainers with this level of experience.
and…Much, much more … and all at an advanced level! Topics such as the Quantum Linguistics, Hierarchy of Ideas, Sleight of Mouth, Platform Skills, Prime Concerns, Suggestibility, Advanced Healing, and Allergy Intervention are just the tip of the iceberg of what we have in store for you when you join us for the FasTrak™ NLP Master Practitioner Certification Training.
You will also make lasting, enduring friends at the NLP Master Practitioner Training.
NLP Master Practitioner – Testimonial for the Tad James Co., from Francesco Pellegatta, Italy – VIDEO
Tad James Co – Modeling Section – The Board Break Exercise During the NLP Master Practitioner Training VIDEO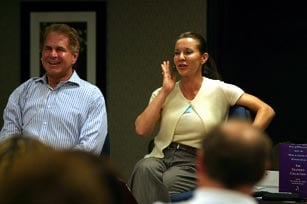 The Training: The FasTrak™ NLP Master Practitioner Certification Training is at a whole new level of thinking. Presented such that it is easy to understand and use, — you reach a new perspective, so you master your NLP patterns and techniques — you learn everything from a "higher logical level," which means that every NLP technique that you've ever learned before becomes just that much more useable and workable. Moreover, you will learn how to apply all these skills and techniques in coaching people.
When you spend this time enjoying the most rewarding activities that you may ever have experienced you will find that your own appreciation of who you are grows geometrically. In addition, your appreciation of Tad and Adriana James will grow even more as they guide you through the techniques where you truly can discover and totally own your own magnificence.
---
2. Time Line Therapy® Master Practitioner Certification Training
Tad James is the creator of the Time Line Therapy® Techniques — get your certification from the source!
Time Line Therapy® Master Practitioner Certification
Taking a detailed personal history
Releasing negative emotions like anger, sadness, fear and guilt from the past
How to carry out a complete breakthrough session with your client (tailored for business, personal therapy or education)
Letting go of limiting decisions and beliefs (advanced explanation)
Understand what creates anxiety and how to get rid of it
The Creating The Future Process®
Using Time Line Therapy® techniques to assist clients in alleviating symptomology that looks like dis-ease
Participate in giving and receiving a minimum 5 hour personal breakthrough session
Get into total control of your life
Discover how to find hidden, unconscious patterns — yours and others internal blocks
Detailed Personal History
Past Life Regression Techniques
Eliminate Pesky Emotions that Continue to Bother You
Create the kind of future you really want
Understand your own internal time machine and how it creates your future
Know the Difference between Hope and Certainty
Eliminate limiting beliefs and decisions
Learn how to visualize your future so it's more compelling, motivating and exciting for you
3. Certification as a Master Hypnotist
You will also learn hypnotherapy from people who have been doing hypnosis for years. The training also allows you to receive certification as a Hypnotherapist if you are not already certified. Learn three (3) hypnosis techniques permissive, authoritarian and a combination of both (Erickson, Estabrooks and Elman). Become masterful in inducing all the classic hypnotic phenomena including full-body catalepsy
The healing paradigm using ideo-motor signalling to communicate to the Unconscious Mind
4. Certification as a NLP Master Coach
This Master NLP certification training meets the standards of the ABNLP and ABNLP Coaching Division and is approved and endorsed by the Time Line Therapy® Association and the American Board of Hypnotherapy.. Therefore, your certification has worldwide recognition.
Coaching
NLP coaching VS other modalities
Coaching session agreement example
The NLP coaching cycle
Process frames for coaching
Personal strength assessment for clients
Internal drive history
The effectiveness check-list
Restructuring questions for a specific type of business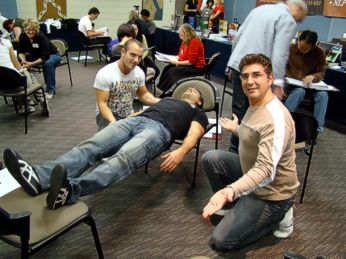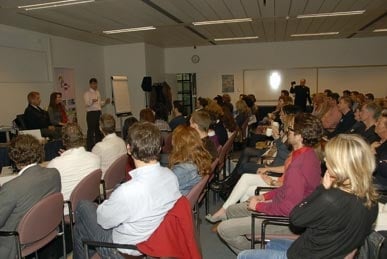 Additional NLP Master Practitioner Resources
The follow articles are excellent resources for those interested in becoming certified as an NLP Master Practitioner. We hope you find the information in the articles useful in your journey. For any additional articles, you can become a member of NLPCoaching.com to further your study in the world of NLP and as an NLP Master Practitioner.
---
YOUR INVESTMENT:
FasTrak™ NLP Master Practitioner Certification Training
Total Training: REG: $7,195 WEB SPECIAL: $6,195.
Extra Discounts are Available. Call the office nearest you.
Includes a one-time $100 Certification Fee.
$995- Deposit to secure the seat.
Download the Free NLP Info Pack and take the first steps in becoming great by improving your life and the lives of others!
Request your Free Information Pack
Fill in our form now and take advantage of this amazing opportunity to learn these techniques to improve your life and the lives of others as you do. Learn how to achieve your goals with The Tad James Company and learn how to improve people's lives better than they currently are.
USA Office:
1450 W Horizon Ridge Pkway #544
Henderson, NV 89012, USA
Australia Office:
Suite 131, 90-96 Bourke Rd
Alexandria, NSW 2015, Australia