WEBSITE SUPPORT
HOW WEBSITE SUPPORT WORKS

Who Handles Support?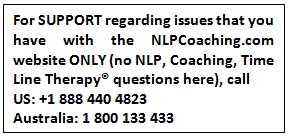 For the NLPCoaching website, support is managed by the Business Developer TJC TEAM. Drs. Tad and Adriana James do not handle support directly.
For any NLP, NLP Coaching, Time Line Therapy®, Hypnosis questions, please use NLP SUPPORT.
For efficient processing of your case, please use the following support process.
Support Process: To obtain optimal support from NLP Coaching, please use the following process:
Take the time to look at the Support FAQ. Most common issues are addressed there.
Take a look at the webpage in another browser such as Chrome, Firefox, Safari. Many times an issue is browser specific, due to accumulation of clutter, cache or plugin problems or configuration settings in a particular browser.
Try loading the website on another computer. Sometimes website problems are computer specific such as an issue with loading a page, submitting a form.
Submit a support ticket request online, on the form HERE. Provide any specific info regarding the error you receive.
How We Handle Support Tickets
FIRST WE ASSIGN A CATEGORY: We take the issue and assign it a category as to the type and degree of support we can give you.
 DETERMINE SCOPE: If the support request is appropriate for NLPCoaching.com, first we will try to reproduce the issue and verify it with other users.
If we cannot verified it for other users or reproduce the issue, we will refer the request to you to contact your local technical support person.
If the issue is reproducible and we can confirm failure for other users, we will troubleshoot the issue to resolve it efficiently.
SET PRIORITY: The issue will be assigned a priority from 1-5 depending on what percentage of users it affects.
How We Categorize Support Results:
Addressed in FAQ: if the issue is already addressed in the Support FAQ, we refer the member to the Support FAQ.
Payment/Bank Issue: if the issue involves Paypal, we refer the member to Paypal Support. We have no access to Paypal payment information. Any issues with users' confidential payment info must be resolved between the user and Paypal.
Local Support Issue:If the issue is not reproducible and if we have verified that we cannot reproduce the issue, and if we cannot reproduce the issue with other users, then we will refer you to your local support person. Many times problems encountered in loading website, completing web forms, etc., are a temporary anomaly with your local internet connection, a browser plugin issue, or any number of other issues that NLPCoaching Support cannot troubleshoot on an individual basis.
Internal Web Site Issue: if we can reproduce the issue (and if it is being experienced by all our users) we will troubleshoot the issue, so we can resolve it internally.
3rd Party Resource Issue: if we can reproduce the issue (if it's being experienced by all our users) and we can detect a cause on a 3rd party tool implemented by the web site, we pass the issue along the chain of support to the 3rd party.
Effective Support depends on NLPCoaching following certain general principles:
We don't get emotional about it.
We focus on results and efficiency.
We don't take on everything. That means we realize there are some issues particular to the internet that we cannot fix.
We do prioritize. We realize that anything can seem like a crisis, but we handle problems as soon as we can and we focus on efficiency and results.
We support everyone equally.