Master Hypnosis Trainer's Training
NLP Master Hypnosis Trainer's Training
For The Real Masters of Hypnosis Only
Some people think they're "the best" but there is no acknowledgement or verification from the outside! Now, receive verification that indeed you are a Master of Hypnosis.
The American Board of Hypnotherapy wants to acknowledge the Hypnosis Trainers in the world who are recognized as masters. If you are one of them, the Master Hypnosis Trainer's Training is for you. As a result you will be certified as a Master Trainer of Hypnosis.
This means practically, that you don't just teach hypnosis or hypnotherapy, but that you teach and certify Hypnosis Trainers. Because only the best teach the best.
There are prerequisites that will determine whether or not you can take this training, but rest assured that when you qualify, you will be joining the ranks of a handful of Hypnosis Masters in the world.
The American Board of Hypnotherapy has 3 levels of qualification:
Certified Hypnotist or Hypnotherapist
Certified Hypnosis Trainer
Certified Hypnosis Master Trainer
Pre-requisites apply. 
These are the Master Hypnosis Trainer Graduates in 2012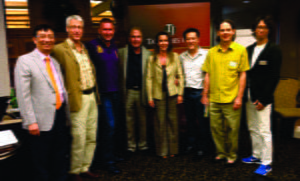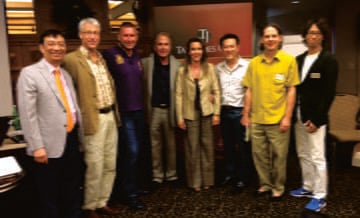 From left to right: Prof. Richard Sui Ping Lin – Hong Kong, Elmar Woelm Ph.D. – Germany, Dr. Thomas Schroeck – Austria, Tad James Ph.D – USA, Adriana James Ph.D – USA, Dr Billy Kueek – Singapore, Douglas A. Woock – USA, Takahito Ko – Japan
Call to see if you qualify:
US Office: +1-888-440-4823
Australia toll free: 1800–133–433
From outside the US: +1-702 440-4823
Australia Office: +61 2 9221 9221
Email:

[email protected]

Email:

[email protected]